In a dream-collaboration-come-true, Marc Jacobs draws inspiration from Disney's adaptation of the Lewis Carroll classic. The collection does more than pull from gorgeous animation cells. It sends an empowering message to the Marc Jacobs consumer, AKA, the modern-day she-rebel. At first glance, it may not make sense for the "edgy" girl of today to resonate with the prim and proper protagonist of the 50s film. But if we look beyond aesthetics, we are all Alice. Therefore, "I AM NOT LIKE OTHER GIRLS" is arguaby for everyone. We've all been curious. We've all been tempted, scared, rebellious, and met many an interesting character. (Nowhere does that ring truer for me than here in NYC, home of MJMB HQ. I just threw a lot of acronyms your way. My bad )....
And then many of us have had the experience of being made a social outcast. The laughing flowers print emblazoned on the majority of the collection is not only visually impactful, but thought-provoking. As I handled the Marc Jacobs pieces at the pop-up, I had an epiphany: The laughing flowers were the original Mean Girls. Before the Plastics, Disney gave us the Pansies. Yes, "You can't sit with us," is just a modern iteration of "We don't want weeds in our bed."
So what would MJ have us do with this anthropomorphic floral clique that harkens to the garden-variety bullies of school cafeterias past? Wear them. Like a badge. To embrace them is to embrace your individuality-- and indeed, as this collection is limited edition, very few individuals will actually possess these pieces-- to proudly accept and be constantly reminded that you are not like other girls. And that you are better for it.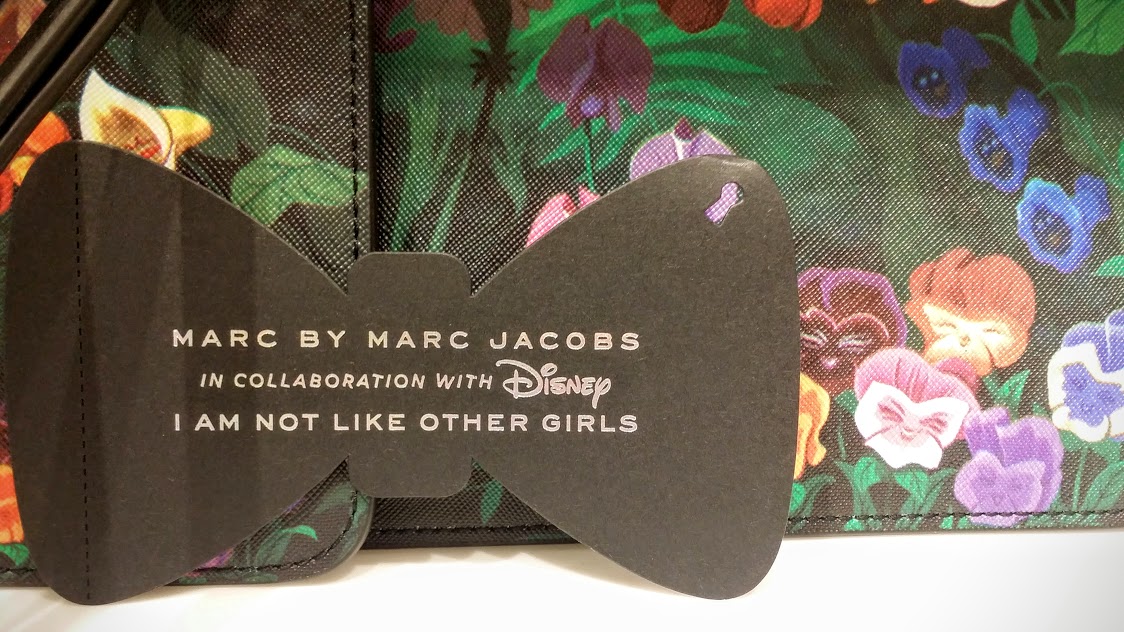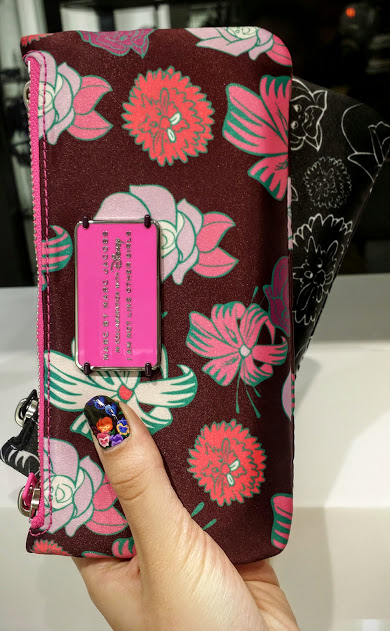 Looking through the collection--which also features the grinning Cheshire Cat-- I fell in love with several pieces. I think I'll take the garden backpack home. Priced at $348, it's a big investment for someone like me who recently decided she needed to take better control over her finances. "Stop spending so much money," I'd just told myself. Ah well, "I give myself very good advice, but...." Guess I'm a bit of a wildflower.
Stop by your local Marc by Marc Jacobs shop or department store (Saks, Bloomingdales) to take a trip down the rabbit hole, or shop online, while supplies last.
What's your favorite piece? What specie or genus are you?